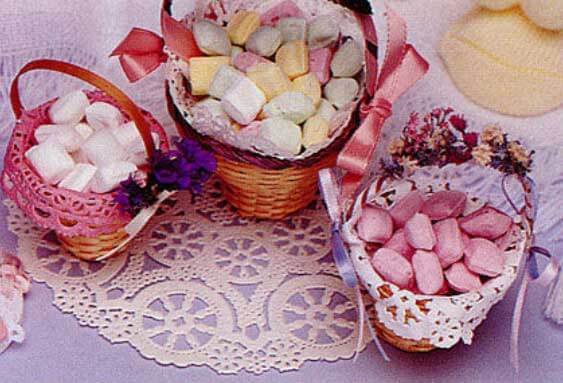 Royal Lace® Doily Crafts
craft // your own
Baby Basket
Buy TheRoyalStore materials here
Materials Needed:
• Assorted small baskets (to measure 3″ to 4″ from basket bottom to top of handle)
• One Royal Lace® Medallion doily for each basket (you can use an assortment of white, pink or light blue)
• Assorted small dried flowers or 2 ribbon roses and silk leaves for each basket
• wide satin ribbon 12" length of 1/8″or 1/4″ for each bow (colors should coordinate with dried flowers and/or party theme)
• Glue & Tweezers
Directions
Place doily inside a favor basket. Sometimes the doily center will sit higher than the basket bottom. You can keep it this way, filling with less items, or you can trim the center out, using only the lacy edge to decorate your basket.
Glue the doily to inside rim of basket and allow doily to stand upright or fold 3/4″ edge of
doily over rim of basket and place small dabs of glue under doily and attach to basket rim.
Glue one end of 1/8" ribbon to inside of basket handle and wrap ribbon around entire
length of handles. securing end of ribbon will dab of glue. We used approximately 8" of 1/8" of
satin ribbon for our 3" basket and approximately 10 " for our 4" basket.
Tie 1 ½"- bows from satin ribbon and glue to the side of basket at the end of handle. Our
double bow was made by placing two colors or 1/ 8" ribbon together when tying bow.
Using tweezers for small blooms, glue dried flowers or ribbon roses and leaves to top and
sides of handle as desired.
Once the glue has dried, fill your baskets with mints or candies. You can also group them on a large Royal Lace Medallion doily for presentation at a buffet or tea table.
If you like, select a baby shower theme, like teddy bears. Glue small bears to the side of handle. You can find an assortment of tiny themed items at most craft stores. Be creative and nu the basket with graham cookie in the shapes of bears!
You can also use these baskets for other parties. Just change the colors and themes to match your event. They would be lovely at a bridal shower or any tea or social club!