How to Create a Project using Poster Board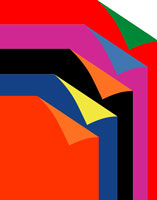 Poster Board is a convenient project and presentation tool for almost any type of school or office project. Why? Because it is inexpensive, it comes in many varieties of sizes and colors, it can be easily cut, scored and folded and many poster board accessories are available on the market to help get the best project around. Geographics offers Royal Brites Poster Board and Accessories, the best products on the market, Made in USA!
Poster Board, Project Board and Foam Board have been commonly used in science fair projects and presentations throughout the country.
Think of a sheet of poster board as a blank page on which you can present your topic.It is the simplest way to get your points through on a big piece of paper.
The key to making a successful Poster Board presentation is to keep it clean and simple, no matter what the topic is.
Things You'll Need:
Computer with Printer and Internet Access
Poster Board White, Black or Color (one sheet or more)
We recommend the Two Cool Colors Poster Board 22″x28″
Poster Board Borders
Two Cool Poster Board Marker
Glue & Stencils
White Paper
A pair of scissors
Poster carry on bag
Most of the above items are in our Poster Board and Accessories section.
Step 1
Split your presentation into five main sections. The first or the last section should be a summary of the whole presentation. You can begin with the summary and you can repeat it at the end.
Step 2
Type and print out the title of your presentation. Cut the title off the white sheet and glue it directly onto the colored paper or directly on the poster board. Or you can use stecils and marker to write the title directly on the poster board sheet.
Type and print each section. Use one page (horizontal or vertical) for each section. Glue each page into the center of a piece of colored paper.
Step 3
Decorate your poster board sheet with assorted poster board borders
Step 4
Glue the colored paper onto the poster board sheet: place two sections on each side and one section in the middle. Place the other two sections below. Leave spaces so you can add pictures and draw any shadows, signs or arrows using the two cool colors marker . This will bring together the five sections of your presentation.
Step 5
Print and glue pictures onto the poster board in the right spots and use the Two Cool Poster Board Markers to draw any shadows, signs or arrows.
Buy Poster Board
Use Poster Board Stencils, if necessary.
Use the back side of the poster Board if you need to extend your presentation.
Place the poster board presentation in a poster carry on bag and carry it safely to school.