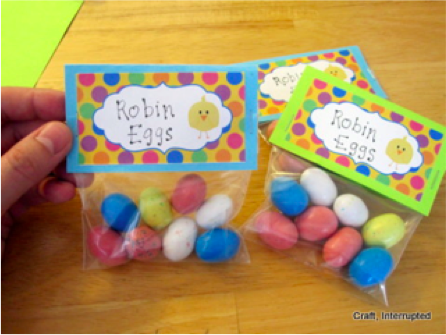 The Easter Bunny is hop-hop-hopping your way! Easter egg hunts have been a children's tradition for years. This year, why not step up your hunt with Easter candy gifts by customizing Bunny Bags with your kids to give as fun gifts to friends and family? It's a fun way to enjoy crafts with the kids – and celebrate the holiday! With
iclicknprint
– it's quick, easy and fun!
Here is what you'll need:
24 Zip Sealing Snack sized bags
Jelly Beans
Stapler
4 Pages of Place Cards Paper from Geographics (Size: 1.625″x3.75″)
Easter Bunny Bags are easy to make! Simply fill the bottom of each snack bag with jelly beans or other yummy candy and seal the bag. Now, you are ready to design your labels!
Once you've purchased your Geographics products, simply log on to www.iclicknprint.net with your product code to begin designing your Bunny Bag labels. Using our online template and your creativity you can design labels with each child's name, clip art, colors, or a fun Easter message! For this project – you will want to design both sides of the label. Keep in mind, the sky's the limit for festive crafts! Once your design in complete, simply save your work and print.
After printing, separate your labels and fold each one over the top of your Bunny Bag. The top of the plastic bag will be between the two sides of the label. Carefully staple to secure the label to the bag. And…..faster than that bunny can hop down the trail – you're done!
What will your family's Easter Bunny Bags look like? We'd love to see! Like us on Facebook and share your creation!
Have you got a fun craft idea using iclicknprint application? Let us know we're interested in your creativity!