If knowledge is power, why worry about viral aerosols?
The latest research shows that the COVID-19 virus (SARS-CoV-2 ) can be airborne – transmitted through the air via the inhalation of aerosols. Smaller viral loads are present in  milimicron size particles (a billion part of a meter) carrying the virus around.
The bigger particles fall to the ground, while smaller particles stay in the air for 16 + hours, traveling around with the currents. If an infected person is present in a poorly ventilated space, wearing no protection mask or shield, they can expel aerosolized virus in the air.
The longer the infected person is present, the higher the viral concentration- the distribution of these tiny viral particles getting wider. Mystery solved! 
What to do?
Check Our Safety Products!
Avoid High Risk Places:
Enclosed spaces or places with many people and poor ventilation such as restaurants, bars, offices, classrooms, churches, hospitals, airports, trains, planes, etc. A place where people spend many hours in close proximity can become a major source of infection, if one or more infected persons are present. 
Experts recommend:
Chad Roy, Microbiologist at Tulane University recommends strict mask use for anyone leaving home.
Lisa Brosseau, a consultant and retired professor of public health, states that masks can limit the spread of particles, if they fit tight and not loosely, so that the smaller particles do not get inhaled.
To really make a difference, she says, masks would need to be worn all the time, even around family.
Donald Milton, an aerobiology expert at the University of Maryland, says that in order to avoid inhaling the viral aerosoles we need to wear masks, avoid crowded places, increase ventilation in closed spaces, keep  windows open whenever possible or have a good ventilation system on, sanitize the air using upper-room germicidal UV and far UV in large spaces (institutions) and, in general, keep density low on public transportation and in most places.
All scientists agree that:
SAFETY IS ENHANCED WHEN:

We disinfect surfaces;
We wash hands or use hand sanitizer with a minimum 70% alcohol content, especially before touching our eyes, nose or mouth – the main entry pathways for the virus;
We are having everyone wear face masks or face shields;
We increase social distancing beyond six feet;
We allow a lower number of people inside, at any given moment;
We shorten the amount of time spent in an enclosed space with multiple people present;
We make air ventilation a higher priority.
Research conducted by the US Department of Homeland Security has shown that in the presence of UV light, aerosol particles of the millimicron size studied by the Tulane researchers, would disappear in less than a minute. 
UV-armed robots can disinfect hospital rooms, shopping malls, stores, public transit stations, etc.
Become a fresh air connoisseur! Get out in the sun, keep your rooms ventilated, keep the distance and wear a mask even if we show no symptoms.
Knock it out! Help to curb the spread of the virus!
Face and hand protection combined with leaving shoes at the entrance and changing clothes can make a big difference in stopping the spread of the virus!
We added some materials that will help in knocking out this invisible enemy.
USE MASKS!
Washable white cloth mask with ear loops, great for everyday use. Easy to wash. Ironing creates an extra layer of safety as it destroys viruses and bacteria through high heat.
Washable black cloth mask with ear loops, great for everyday use. Easy to wash. Destroy viruses and bacteria through high heat and use a fresh mask every day to ensure safety.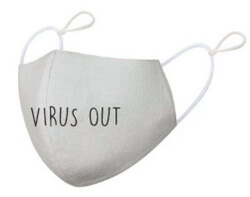 Keep your children safe with these washable white face masks that can be sterilized in a UV oven or ironed at high temperature to destroy and viruses or bacteria.
SANITIZE HANDS
MAKE LARGE ANNOUNCEMENTS!

Write your messages on glitter bordered poster board by Royal Brites®, MADE IN USA!
This is a great way to communicate with customers, loved ones and others. We are open signs, I love you distant messages, Wear a mask, etc…
HAPPY ANNOUNCEMENTS!
Royal Brites® Poster Board Made in USA!
Coated both sides, our neon poster can shout and blast any message that must be heard. Also great for business cards, labels, arts and crafts projects and more.
Use our deluxe silver holographic poster board to make special announcements or to express your love. Great for weddings, parties and messages from afar. Free customiztion with Iclicknprint.
BOTTOM LINE
Protect Yourself  Wear a a mask or shield or both. Use hand sanitizer when you cannot wash your hands with soap and water. Communicate and enjoy life!
I am very happy with the shields. I can breath while being kept safe from direct droplets. Protecting myself and others!
Jennifer J HR Manager