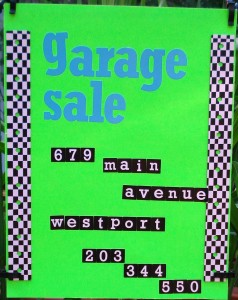 Making a do-it-yourself sign with sign board is an excellent way to promote a garage sale.  With a few low cost materials you can put easily put together a bright and eye-catching display.  TheRoyalStore offers a versatile selection of sign-making materials so you can make your garage sale sign original and effective.
You can construct the do-it-yourself sign pictured here using only a sheet of sign board, poster letters and numbers, and some repositionable poster borders.  To start, decide how you'd like to orient your sign—in this project, the sign is oriented vertically but you can orient your sign based on your personal preference.  Next, be sure to choose a color for the title of your sign that contrasts with the color of neon poster board you chose.  This will ensure that your sign is eye-catching and visually interesting from a distance.
Sign board words excellently with poster letters and numbers.  
Poster letters and numbers are self-adhesive and repositionable so you can conveniently adjust the layout of your board.  If you wish to permanently glue your lettering, use a glue stick or rubber cement rather than bottled glue for less mess.  Don't be afraid to be creative with how you position your sign's message; arranging a fun heading will help people notice your sign.  Once you've decided where you want your message, use poster borders along the sides of your poster board to give your sign a welcoming air and draw more people to your sale!
In three simple steps, you can use sign board to make a great sale sign. Use an inexpensive sign holder to display your sign or clip it to your fence, telephone pole, or another area near your home.  Finally, consider using additional board accessories on your sign such as glitter glue, stickers, stencils, or poster shapes to make your sign its best!