Got a foot-tall stack of certificates to print?
Forget typing names and accomplishments onto each certificates, one at a time!
With the free, online software iClicknprint from Geographics®, you can create countless personalized certificates in no time.
The secret? Two words: Data Merge.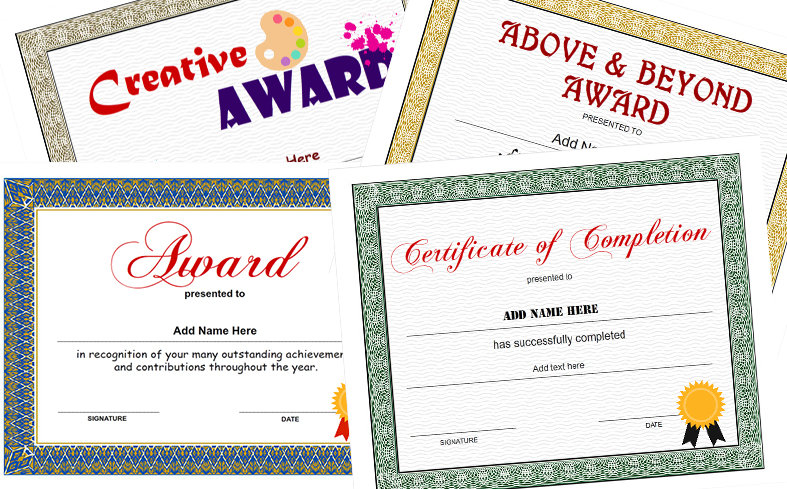 Essentially, iClicknprint Merge is a way of transferring text from one file source onto multiple certificates, letterhead or labels.
With iClicknprint this means that you can create numerous customized certificates from one file, such as an Excel or a CSV file.
All you need is a list of the recipients' names and accomplishments, then you can import the information to text boxes on the certificates and save and download a PDF File that you can print.
Speed and convenience are obvious benefits to using iClicknprint Data Merge, but they're not the only reasons to start using it.
If you need to make a change to multiple certificates, it's as easy as altering one Excel file—not 20 individual certificates. The ability to use "Find and Replace" or "Copy and Paste" on a single file instead of 20 can be a lifesaver.
Using one source of data also reduces the likelihood of spelling or grammatical errors in the final product.
Once the data merge process is finalized, you can print as many certificates as you need from the PDF file you download in your computer.
You can print them all at once or one at a time.
iClicknprint Merge also allows for a greater degree of personalization.
It's easy to include special notes about accomplishments that make the certificates more meaningful.
Recognize your students' individual accomplishments instead of using a general statement such as "outstanding achievement."
Instead, go down the list and write a personal note to your students—it's easy, because they're all in the same file.
Once you're done, you can save your work and use it for future certificates.
Best of all, it's a simple process.
iClicknprint provides a variety of templates for professional-looking certificates.
All you need to do is organize the information you want on the certificates into basic categories, such as names and accomplishments.
The program does the hard work of placing the information on each certificate. Print them out and you're done.
Now, compare that to typing out the names and accomplishments of your students onto each certificate in turn!
Go to the Iclicknprint certificate customization page.