Spring is coming!  For many families this means long days in the park, BBQs and gardening.  There are many perks to planting a garden with your kids.  Gardening can promote sustainability, save grocery money, teach kids the value of working together as a team and provide healthy nutritious produce at meal time.
iClickNPrint.com can help you engage your whole family when starting a garden.  And, since Easter is so close, let's focus on the Easter Bunny's favorite – carrots.
Things you will need for your seedlings project:
Dixie Cups (used as mini-pots for planting in)
Dirt (A mixture of sandy loose dirt or organic matter and potting soil works well)
Toothpicks
Carrot Seeds
Aluminum Foil Pan to use as a seedling tray
1 Package of Place Cards Paper from Geographics (1.75"x 4.25" size)
Glue Stick
Why carrots are so great:
If you are starting a small backyard garden, carrots do not take up a whole bunch of space and may be a great addition to your learning garden adventures.
Directions for planting:
Start by placing your cups in the bottom of the foil pan in preparation for adding the soil
Next, fill your Dixie cups 2/3 full with dirt
Make a small indent in the soil in the center of the cup about ¼ inch deep with your finger
Place a seed in each indent, then lightly cover the seed with soil
Water your seeds gently, seeds should be moist but not flooded
Now you're ready for the fun part!  Using the iClicknPrint Online Design Center with your product code you can easily design custom seedling labels with the templates and clip art available – for FREE!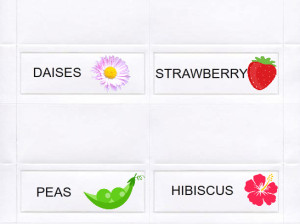 Once your design is complete, simply print, separate, and fold your Place Cards over the end of a toothpick.  To secure the Place Card to the toothpick, swipe the glue stick on the inside of the Place Cards which will glue the toothpick into the card.
Place your new custom garden sign into the Dixie cups and you are all set!
Check back often for fun iClicknPrint projects to do with your family!
P.S.  Don't forget to water your seeds daily!