Quality project board can really make the difference in your next project. If you're looking to find the best materials for your next school presentation, or trying to find something that will be impressive for your child's next science fair, you want great project board. TheRoyalStore.com offers Royal Brites and Royal Brites project board in multiple sizes from 11"x14″ folded which becomes the tri-fold project board 14"x33" to 24"x36″ which becomes 36″x48″ when un-folded. Other project board sizes are: 20"x28″/28"x40″; 24"x38″ and 22"x28".
Buy Project Board
Royal Brites project board is made of double-sided corrugated cardboard, which can stand up to those everyday bumps and snags. Best of all, TheRoyalStore.com's project board comes in a variety of Two Cool Colors, which is a different color on each side so that you can use both sides in interesting ways. Also, it comes in a few styles, such as tri-fold and flat with an easel prop. Don't let your projects be lackluster with board that is dull and cheap. Choose the eco-friendly, recycled project board that can refresh a presentation with its bright colors.
Most people purchase project board for a professional or school-related purpose, but the truth is that project board has unlimited possibilities. Birthdays, holidays, and celebrating personal milestones are special events that deserve to be fancy. Let your creativity shine and use project board for your next party? You can make a party invitation poster, a welcome sign, a name-card or a place card display, etc. For your next gathering, try making a customized sign for your visitors, a poster with old photos and valued memories, or a sign in board for your guests to share their love for a loved one, no matter the occasion. Giving your party that personal touch with project board will impress your guests and bring them closer together, plus, your project board can become a keepsake!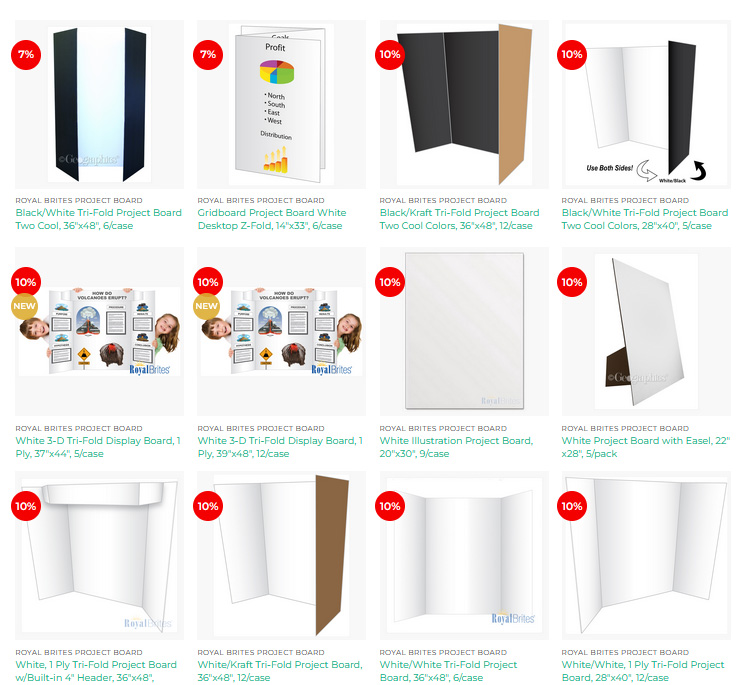 For school projects, project board can be used successfully with colorful Royal Brites poster board and it can be used for a project or as a classroom motivational material. You can have your student of the month display board, a happy birthday or announcement board that you can tack pictures and printed material.
Printing materials for your project or display board is easy and free with iClicknPrint, a software that Geographics® and Royal Brites® offers for free. Use shapes and lines, Templates and Layouts, Clip Art and more!
When using project board, you may need some project board supplies to make it stand out from the crowd. Royal Brites® project board is pen, pencil, paint, marker and glue receptive and coordinates with all of our Royal Brites® display board accessories. Use especially the adhesive borders to frame it or separate parts, use letters, shapes, stickers and more to get a successful project. You may want to try the Geographics© design paper, paper doilies, photo paper, and other great products to make your project the best it can be.
So, what are you waiting for? Plan your project with Royal Brites Project Board from TheRoyalStore.com, today!