Do you have wonderful employees that always go the extra mile?  Of course you do!  It's time to recognize their efforts.  Research shows that most employees work hard for the recognition as opposed to just money.  Acknowledging your staff members can increase moral, decrease turn over and make a dramatic impact on productivity.  Saying thank you is a Win-Win strategy, and frankly, just the right thing to do.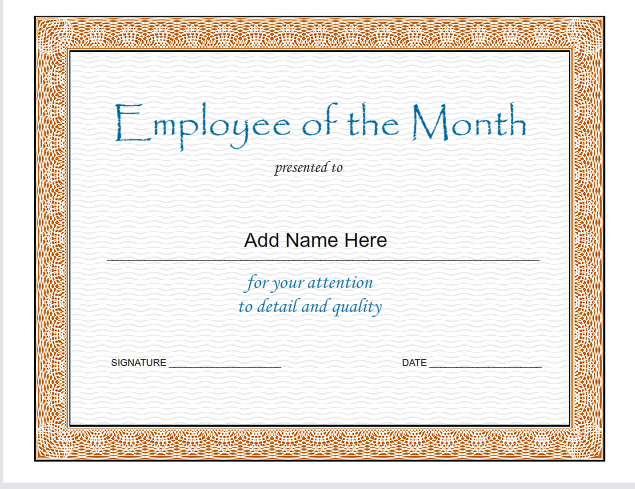 With
iClicknPrint
Certificates from Geographics
,
you can create high quality certificates for your business or diplomas for your school! Whether you are recognizing athletes, students or employees, you can create amazing certificates using iClickn'Print templates on our professional grade certificate paper. Creating them is a snap with the
iClicknPrint
Online Design Center.
Here is what you'll need for Employee Certificates:
Geographics Certificate Paper (click here to find where to purchase)
That's it!!!
Now you're ready to start appreciating your staff, athletes, students – or whoever you see fit to recognize!
One of our favorite certificates is the 8.5 x 11 Parchment Certificates.  They fit wonderfully in a frame, so your staff can show off their great achievement!  Once you have your paper, log on to the iClicknPrint website, and enter the product code located on the back of the package to access exclusive online design templates, tips and tools.  In fact, there are even video tutorials to help you create the perfect award quickly and easily.
The Online Design Center offers endless design options that allow you to create beautiful, high-end certificates of any kind.  With iClicknPrint and your appreciation, the possibilities are endless!  You can create anything that fits your deserving recipient.  Our high quality products will solidify the value of their efforts, and your appreciation for their dedication. Simply create, save and print.
Start recognizing those over-achievers today, with innovative iClicknPrint ideas and Geographics products, your appreciation has just been elevated to the next level!