Use a good photo paper to print great photos from home, but there are many brands out there to choose from. Royal Brites photo paper has been manufactured in the US by Miami Valley LLC for many years and with experience comes superior quality. When it comes to photo paper, Royal Brites exceeds expectations by offering a range of photo paper grades customized for specific types of projects.
Whether you are an expert at using photo paper or a complete beginner, you are sure to find a Royal Brites photo paper that meets your needs. Photo papers are typically available in three grades: glossy, premium and professional.  Overall, these three grades differ by factors like paper thickness, drying time, longevity and of course, image quality. At Geographics.com and TheRoyalStore.com, you can find these three grades as well as additional photo papers in a variety of sizes.
To clarify exactly how many choices you'll have with Royal Brites photo paper, we'll start with the basics. The Everyday Glossy photo paper is a solid choice for those who want to print personal photos from home that have the appearance of traditional photos. After all, when most people think of a photo they think of a glossy developed one. If you're looking for something a bit more unique, check out Royal Brites Matte and Satin photo papers. The Matte paper has a subtle finish; it is inexpensive, dries quickly, and is printable on both sides. Satin paper has a lustrous finish that is very smooth so it resists fingerprints well. Both of these photo papers also serve a functional purpose—since they do not have a shiny finish they are good at resisting glare if displayed from a distance.
If you are just a casual photo printer, you may wonder why it's worthwhile to choose a Royal Brites Premium or Professional photo paper instead of a basic glossy photo paper.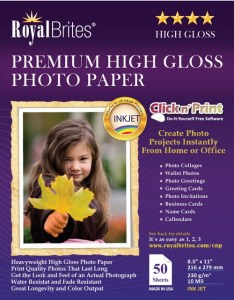 While all photo papers should be chemically optimized to produce a good photo, premium and professional papers go the extra mile to make outstanding, long-lasting photos and also provide convenience in the short drying time. Premium paper is bright white and coated with a high gloss finish to produce a high resolution image with a classy presentation. Professional photo paper is the same but it can also be instant-drying and fade resistant (depending on the technology involved) to last for generations to come. Whether you're printing photos for a casual or professional purpose, using premium or professional photo paper will bring the best out of your project.
By choosing Royal Brites photo paper, you'll not only be able to print professional quality photos at home, but also be supporting a US-made brand that is devoted to producing fantastic results.