Royal Lace® Paper Doilies can easily turn a dull table setting into a spectacular, elegant table décor. Use larger doilies such as the 12'' or 10'' White Normandy Lace Doilies under plates to dress up your dinnerware. Also, match them with smaller size, 4″ lace paper doilies with the same pattern and use them as coasters under stemware and between cups or saucers. When shopping online at the TheRoyalStore.com, you can choose from several sizes, styles and colors of doilies and placemats – starting from 4'' to 18'' in diameter, in elegant styles like French Style Doilies, Medallion Lace Paper Doilies or Normandy Lace Doilies. They also come in assorted colors and shapes – white, gold, silver and red, round, heart shaped and shamrock.
Place lace paper doilies between plates
One use that is very practical is placing lace doilies between plates that you want to store so that you can prevent scratches. Just take a cake of doilies (there are three or 4 doilies in a cake, detach them carefully, on top of a surface that can be easily cleaned -there are small paper chips falling out in the process- which is unavoidable. Place each doilie between two plates and cover the top plate with a doilie as well.
All Royal Lace Paper Doilies and Placemats come in exceptional lace patterns – classy and elegant but also modern and versatile to be a perfect fit for both traditional and contemporary surroundings. Craftsmen who recreated royal lace patterns by hand imprinting them on metal dies have left behind their artistry in an unimitable way. That is why the designs for our lace doilies and placemats are unique. The names of the Royal lace designs usually denote the pattern's lace origin or style such as Bobbin Lace, French Lace, Normandy Lace, Medallion Lace, etc. Use doilies that have been made in the USA since 1920's. They are uniquely Royal!
Breakfast treats with Lace Paper Doilies
Doilies also look great lining bread baskets and on platters under finger foods, pastries and cakes. For a breakfast table setting Use Royal Lace Doilies to add zing to a fruit platter, frame those tempting croissants, and bring decorative delight to your table. Wrap each fruit with an elegant doily and entice your guests with a wide selection of colors and kinds of fruit. Be sure to add exotics, like kiwi, pineapple or star fruit. Place full, luscious strawberries, apples, grapes or citrus fruit, nestle them in a beautiful 6″ or 8'' Medallion Lace White Doilies  or Gold and Silver Foil Doilies, as festive holders.
Make friends feel special – an elegant brunch with Paper Doilies
Bring the charm and hospitality of a fine inn into your own home. Lavish everyone with a sumptuous menu: eggs Benedict, French toast, croissants and delicious pastries with tempting toppings and a pitcher of fruit frappes or special fruit-blended healthy cocktails. Scones, muffins and a variety of fruitbreads should abound in a round or square (Basket doilies) doily-lined basket. Be sure to adorn each plate with fresh fruit in season. Use Royal Lace French placemats and make special, doily adorned place cards to seat each guest. Use your best dinnerware and have an elegant floral bouquet prepared with Medallion or French lace doily accents.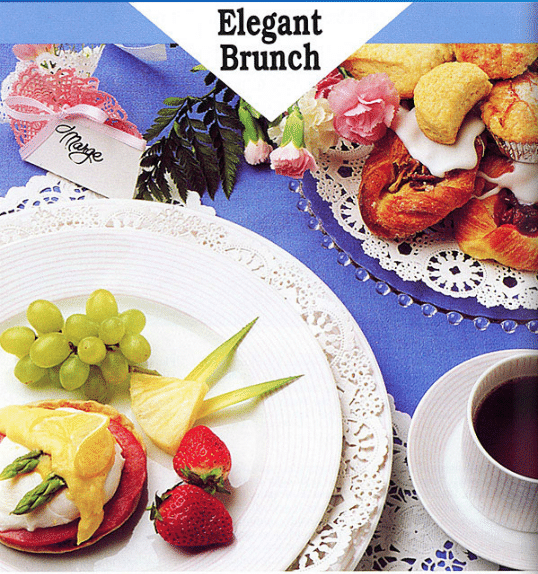 Whether the finishing touch to an attractive table setting, special food presentations or fun craft ideas, Royal Lace Doilies are the perfect way to bring it all together.
Find more ideas on how to use Royal Lace Doilies in our free downloadable brochure, The Creative Doilie!