Spring is here! Celebrate the season with IClicknPrint! Spring is the perfect time to start a garden or transplant seedlings to your outdoor garden space. Let IClicknPrint assist you with your gardening so your whole family can see how your garden grows!
Gardening is the perfect family project, and the best way to teach your kids about eating fresh fruits and vegetables, all while learning about sustainability and horticulture.  But let's face it – for many of us, it can be difficult to tell which plant is what, before they start to be productive. IClicknPrint can help you fix that problem!
Things you will need for this gardening project:
Garden Trowel
Seedling Plants
Soil
1 Package of Royal Brites Neon Sign Board 8.5″x14″ (Assorted Colors)
Garden Landscape Staples
Paper Stapler
The goal for this project is to plant your seedlings in rows or sections that are clearly marked noting the plant name.
When starting your garden, prior to planting you must first prepare the soil by tilling in compost or other natural fertilizing materials with garden soil.  The area should be damp, but not saturated as you prepare to plant.
Using seedlings started at home or store bought seedlings of a few inches in height is best.  This size allows for easy transplanting and the best success rate.  Once you have prepared your plant markers – you will be ready to take your seedlings to the garden and place them into the ground.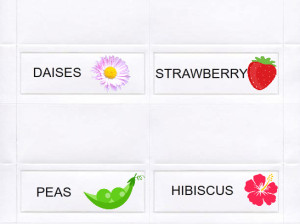 But first, create plant markers for each plant type or row, according to your preference.  Start creating custom Plant Labels with IClicknPrint – it's fun and easy!
Simply start by logging onto the iClickNPrint Design Center Sign Board and choose either
CARDS 2.12″X3.5″ or
FOLDING CARDS 4.25″X1.75″
Choose the orientation and start typing the plant names. Save the project and download the pdf file – It's FREE!  Once saved, you can always update it with new plant names in MY PROJECTS.
Place the legal size neon sign board in your printer and print one side or both, making sure the name will come out in the right place on the back of the label.
Cut the labels and fold them using the flat side of a knife to create the scoring line. Be as creative as you like – you can add the latin binomial name of each plant so your family can easily identify and learn about the plant.
To secure the printed tabs or labelling cards, , fold the double card on top of a lanscaping staple and staple it in the iiddle at the bottom.
Place your new custom garden sign in front of each row or plant and you are all set to start planting.
So, Mary, Mary – how does your garden grow?  With iClicknPrint and products from TheRoyalStore.
Check back often for fun iClickNPrint projects to do with your family!
P.S.  Don't forget to water your garden!