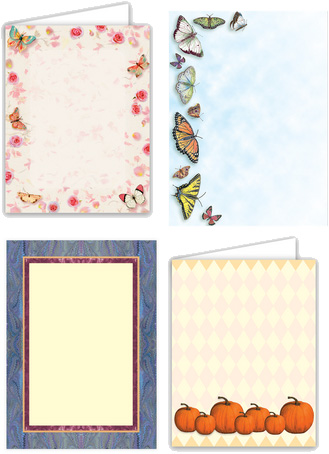 Using printable invitations to prepare for a special event is a worthwhile investment of your time for many reasons. Designing custom invitations from your home computer gives you the power to make an invitation with personal touches that your guests will appreciate and remember. And by using an invitation template or a design program to assist you, you can literally have your invitations ready to print in minutes.
As with any kind of printable stationery, printable invitations come in a variety of designs to suit different needs. If you're the type of person who loves to do things from scratch, you can find blank invitations in a plethora of sizes and colors from online retailers. However, using an invitation with a pre-printed holiday or themed design will save you more time (and possibly ink) during the printing process.
Formal printable invitations are an excellent material to use if you want to save a bit of money on an occasion like a wedding, shower, or anniversary. These invitations come in many types of finishes and textures, such as vellum, for a professional look. Using an invitation kit is a convenient option for a formal event because they include multiple stationery items in one set. They can range from simple (containing response cards and envelopes) to complete (containing programs, place cards, and other items).
Creating the design for a printable invitation will depend on the type of invitation you purchased, but in most cases it is a fairly easy process. Before you start, it's important to note the size of your invitation. One common size is 5.5"x8.5", which is essentially half of a standard size of 8.5"x11" paper. You may also see 2UP invitation in this size, meaning that there will be two invitations per 8.5"x11" sheet. Chances are you will be able to find a free invitation template for any size and style of printable invitation on the market. Templates will differ in functionality depending on the source website, but a good template should facilitate both the design and printing process. iClickn'Print (offered by Geographics®) is one example of a design program that offers a variety of pre-made templates in addition to many creative tools.
Whether you are working with blank invitations or invitations with a pre-existing design, you should always feel free to add your own personal embellishments. Play around with different fonts and font colors, experiment with the spacing and layout of your text, and consider adding decorative clip art or an image of your own. For example, adding a photo of the happy couple to an invitation for an anniversary party would make a heartwarming memory for your guests.
Making your own invitations using printable invitations is cost-effective and will also mean a lot to your partygoers. All it takes is some creativity!