Please send us your opinions about TheRoyalStore products and services.
Let us know how we can improve your shopping experience.
We appreciate both praises and constructive criticism.
The overall use of the site with templates and Iclicknprint is very useful. It lacks very few things! I love it and have created my first ever invitations using Royal Brites white poster board and Royal Lace Medallion doilies! Best yet, the poster board is made in USA which is great! (and we like to support US manufacturing.) Make America Great!
This iclicknprint is amazing, you can customize EVERYTHING! The website looks much better now you can find products much easier and they are even showing stock available. Love the free resources and especially the Creative Doily Booklet.
Soo much better experience with this new website. THANKS!
Excellent new website.
Very good products and customer service, When I needed support, I was served promptly and perfectly.
I love products made in USA. Congratulations!
I Have The Best Customer Service Total Satisfaction
I am thrilled to find paper doilies and now to find this whole website full or things that I thought had been discarded from our culture! Thank you!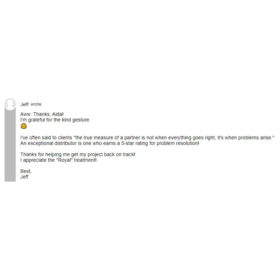 Aww. Thanks, Aida!
I'm grateful for the kind gesture.
🤗
I've often said to clients "the true measure of a partner is not when everything goes right, it's when problems arise."
An exceptional distributor is one who earns a 5-star rating for problem resolution!
Thanks for helping me get my project back on track!
I appreciate the "Royal" treatment!
Best,
Jeff